It's fun to dream sometimes–to think about the whimsical What Ifs. What would I do if I never had to wash / dry / fold / put away another load of laundry? What if I never needed to unload the dishwasher again? What if I didn't have to choose between vacation destinations and I could take them all? What would I do with a million dollars??
If I had a million dollars … hmmmm.
That takes me back to the mid-90s and makes me want to sing about Kraft dinner. Those silly Canadians.
Surely you're familiar with the Bare Naked Ladies, right?! Yeah, me too!!
Funny story.
It was 1995–my first year teaching. In addition to teaching Spanish 1 and 2, I was the Student Council advisor. Translation: I lived in that high school. I don't know that there was ever a day I left the building before 5:00. Each evening before I headed home, I would call Hubbinator to let him know when I was on my way. This was 1995–before cell phones, before phones in classrooms. The only phones in the entire school were in the office and the teachers' lounge. Because I was there so often "after hours" for meetings and events with my Student Council kids, I had a master key that would let me into the office. Each day I'd head there before leaving to call home.
One day, I had lost track of time. It was nearly 6:00. Afraid Hubbinator would be worried I was dead in a ditch or something, I grabbed my keys and headed down the hall. As I went into the office, I heard music. I wasn't sure who else was in the building that late, but I didn't want them to be surprised by me, so I went to let them know I was there. As I turned the corner, it became obvious the music was coming from the principal's office. It was pretty loud and he was singing along, oblivious to anyone hearing him. I didn't recognize the song at all, but it was upbeat and fun.
As I neared his door, I said, "Hey, Doug" but I was sure he didn't hear me because he didn't skip a beat in his song. If I had a million dollars, I'd build a tree fort in our yard! Thinking he'd hear me and be less likely to be embarrassed I heard his singing in the shower-esque performance, I called out again trying to cut through the bouncy beat and his crooning. "Hey, it's Jen … I'm just making a phone call before I head out." Nope. Still didn't hear me–and at that point I was in his doorway. He was on his (giant monitored) computer … his head bobbing along to the beat.  But not a real fur coat–that's cruel. I tried to gently knock and clear my throat. "Ahem. Hey Doug." Well I'd buy you an exotic pet–like a llama or an emu. Then he must have heard me because he snapped his head around, wide-eyed and clearly shocked to see me. He stammered something awkward like "I was just–, er, uh, I mean, I didn't know you were–, uh, I really like bare naked ladies."
My eyes surely widened with a surprised expression on my face. So that's definitely NOT what I expected him to say. He just blurted out that he likes looking at naked ladies. Wow, just wow. I would not have pegged him as a perv that he would do that in school. But, wow. Wow. I stumbled my way through a response. "OK. Well, that's not–, uh, ok, well, alright, so I just–, wow, uh, ok. Well, I was just going to call my hubby to let him know I was leaving. I didn't want you to be startled to hear someone else in the office. But, that, uh, well, that didn't quite work like I thought it would. But, ok–, um, I'm just …" He interrupted me and started laughing. Aaaannd, now he's losing it. Fantastic.  Then he said, "No, Jen, I really like bare naked ladies. Bare Naked Ladies" and he held up a CD. "They're who I was listening to. You haven't heard of them?" Uh, no.
We had a good laugh sorting out that conversation.
A few days later, I found a CD in my mailbox with a sticky note that said "I bet you really like bare naked ladies too."
He was right. I'm a huge fan of the Ladies! 😉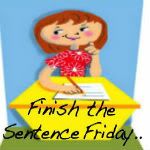 This has been a Finish The Sentence Friday post: If I had a million dollars, I …"
What would you do with a million dollars? And will that be your weekend earworm??!